2,600 kilometers – that is the length of GlobalConnect's new digital highway from Berlin to Luleå. "It goes under the sea, and then overland along all of Sweden," says Patrik Gylesjö, Head of Tech and Delivery at GlobalConnect.
The project is one of Sweden's largest investments in digital infrastructure, and the capacity will correspond to the amount of data communication that is currently required by the entire Nordic region. Two years ago, planning began on a project to lay completely new fiber optic cable, a digital highway from Berlin in Germany up to Luleå in northern Sweden. One year later, the ground was broken and today large parts of the route are complete.
"The section between Stockholm and Luleå is finished, and several sections both under water and on land are ready. This is an enormous project that has required major resources, but we are now nearing the end. Since we have been building at several locations the whole time, it is difficult to say exactly when we'll be finished, but we expect it will happen in Q1 or Q2 2023," Patrik Gylesjö says.
Expert help from professionals
To pull this project off – the largest infrastructure investment in Sweden for many years – GlobalConnect got help from professionals via Ework Group. "This has been entirely crucial to our success. Their know-how and experience has been key to moving the project forward. The professionals we engaged in partnership with Ework possess specialist knowledge that isn't easy to find. Since this project is so large and complex, we didn't have enough of our own resources to allocate, either."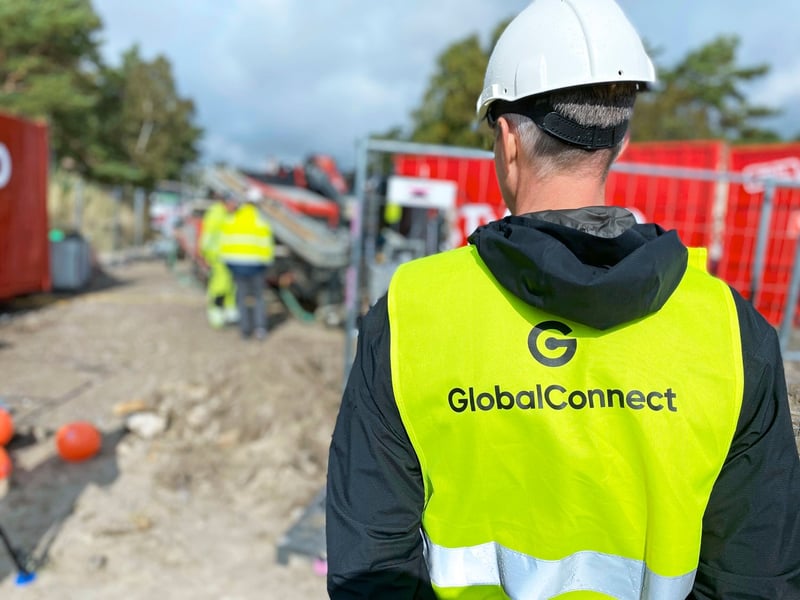 What kind of professionals have you engaged for the project?
"Several different kinds. Our main project managers are from Ework, and we also hired several others, including for the ocean sections. It's been senior professionals who have assumed a great deal of responsibility. In fact, they were often the ones pushing us on, and not the other way around," Patrik says.
Andreas Parkosidis is one of the professionals who is involved in the digital E4 project. He is responsible for the overland section, and has been with the project since April 2022.
"This is an extremely exciting project, especially because in infrastructure projects of this magnitude there are many stakeholder points of contact that need to function effectively and to deliver. This includes everything from government agencies to landowners, businesses and contractors, while always ensuring that the internal processes serve as support. Simply put, it's extremely stimulating to see the machinery in motion."
What challenges have you encountered on the way?
"Considering the scope of the project, we naturally encountered a number of problems along the way. But even though not everything has gone according to plan, we have made continuous progress," says Patrik Gylesjö.
The company that has invested the most in fiber networks in Sweden
For many consumers, GlobalConnect is a relatively unknown company, but the truth is that it is the company that has invested the most over the past few years in expanding the fiber network in Sweden. The company has invested a full SEK 5 billion in various projects.
The digital highway is the single largest project of these, but why did the company actually invest in building a digital highway when Sweden already has access to good fiber networks?
The infrastructure for fiber in Sweden is, and was already, good but with the new highway we'll have an even better network. Many global companies have chosen to invest in setting up server halls in northern Sweden. This highway is insurance for them that there will be several networks available, thereby increasing reliability.
"The infrastructure for fiber in Sweden is, and was already, good, but with the new road we'll have an even better network."
But it is not a question of only ensuring that global companies will establish themselves in Sweden, Patrik tells us.
"It's also about safeguarding networks for regular households and smaller companies. We are building this motorway through Sweden, and along the way we are creating exits. This means that many who previously did not have access to fiber now do, while we are creating competition in the locations that already had fiber. More people also have access to 5G through the increase in the number of mobile masts. Once the entire high way is finished, it will mean that Sweden will have access to greater capacity as regards data traffic and will have better accessibility."
Right now, many of Sweden's government authorities, public operations and private companies are investing heavily in projects to ensure better infrastructure in society. For Ework, being part of enabling the development of society with its broad network of qualified professionals is important.