At Ework, we believe that getting paid should be simple and quick. That's why we have created PayExpress, a tailored payment solution designed for consultants and partners. "To help consultants run successful businesses, we offer faster payments through the PayExpress service. Waiting for money should never be a hindrance to achieving faster growth," says Ulf Ohlfeldt, Head of Financial Service at Ework.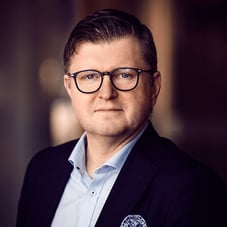 Working as a consultant is a dream for many. The opportunity to choose your own assignments and create your own career opportunities attracts many to start their own business or join a consulting firm. The consultant life offers freedom of choice, and to assist our partners and professionals with this, we want to offer them the ability to unlock capital, achieve faster growth, and create positive cash flow in their operations.
"Many companies have long payment terms. It could mean getting paid 60 or 90 days after completing the work. If you work for a month and then have a 90-day payment term, it takes 120 days before the consultant receives payment," says Ulf Ohlfeldt.
Simple, convenient, and fast
Getting paid should be easy, regardless of the customer's payment terms or administrative processes. That's why Ework Group has custom-built the additional service, PayExpress, which allows partners and professionals to receive faster payment for a fee.
"Long payment terms are a challenge for most companies, big or small. In today's high inflation and increased costs, it is important to secure your working capital. With PayExpress, we want to offer our partners and professionals that opportunity."
PayExpress simplifies the process by reducing administration and ensuring prompt payment. This allows our partners and professionals to focus on their core business.
"In recent years, we have seen an increased demand for PayExpress. Many partners express the challenge of long payment terms. Since we cannot influence the payment terms, the service is important to facilitate for our consultants and partners," expresses Ulf.
A flexible service

Currently, the service is a standard feature in all contracts with Ework. However, for consultants who do not wish to use the service, they can opt out of PayExpress and receive payment according to the customer's payment terms.
"The service is flexible, and it is not mandatory to use PayExpress. Consultants can decline it for one assignment and then choose to add PayExpress for another assignment or opt for faster payment during a specific period," Ulf continues.
Attractive pricing
PayExpress is a service offered by Ework for a fee. The cost depends on the customer's payment terms and is based on a percentage of the invoiced amount.
"Compared to other factoring services, we offer a favorable price," says Ulf Ohlfeldt.
One of the major players
Ework Group has nearly 120,000 consultants in its network, with over 13,000 currently on assignments. Our Verama marketplace publishes over 400 new assignments every month, making us one of the largest players in connecting consultants with companies in need of their expertise. PayExpress is a service we offer to consultants working on assignments through Ework.
Four advantages of PayExpress
Fast payments: You receive your money three days after an approved time report.-
• Simple and convenient: Streamlined administration, no time-consuming credit information, and more working capital to invest in your company's growth.
• Attractive pricing: Our prices are favorable and competitive compared to other factoring services.
• Focus on your core business: Instead of waiting for payments, you can concentrate on your core business.